Godhood Chronicles V0.0.10 Update!
---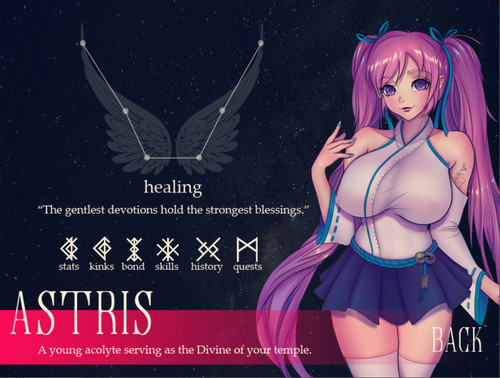 V0.0.10 updates!
artwork for Savannah has been added!
artwork for Jereck has been added!
the food icon will appear next to the devout in the shrine kitchen if the ingredients have already been added to the game
added new enemies to the Thessila/Larklast maps: Elven Archer and Llorona!
Quest 007: A Lonely Ghost has been added and can be completed! Sleep alone in your shrine inner chambers after a set number of days to trigger this event!
Quest 012: The Aberitha Mystery can now be completed!
Jereck Smithson's Quest 01 has been added! Give him food or sleep with him (three times cumulative) to start his quest at the Great Hall!
Larklast now has a bookshop where you can purchase books from!
You can now pay coins to add a library to your shrine!
You can now pay coins to add a pleasure chamber to your shrine! The pleasure chamber itself will be made available in a future update soon!
available books for purchase for library (some books may be required for current or future quests! Completing collections will also give added GodPoints in the future! Once future updates have been activated, if your library already has the completed collections you will automatically be credited with the GodPoints after your first visit!):

A Brief History of Aberitha

Defenses Against the Maleficum

The Beautiful Sodom (for pleasure chamber)

The Art of the Submission (for pleasure chamber)

The Sorcery of Dominance (for pleasure chamber)

new Devout: Chryseis! You can now use their skill Holy Light upon recruitment!
new Devout: Nue! You can now use their skill Darkness upon recruitment!
Chicken! Occasionally, a random chicken will pop up on the map. Nab it to get eggs and chicken meat!
added the Escape command into the battle menu instead of a separate command!
Oddtree available! Go to the odd green tree in the map between Larklast and Thessila to get strawberries, durians, and mangoes!
Bug fixes

[01 and 02] fixed blackout error with devout sex scenes' pillow talk by overriding from previous saved game error (saved game files will still work)
[03] fixed fishing bug and feeding Jereck food bug
[04] minor failsafes added to make sure all the skills work
Files
The Godhood Chronicles [Public Build] V0.0.10[01].zip
Play in browser
15 days ago
The Godhood Chronicles [Public Build] V0.0.10[01] Linux.zip
445 MB
15 days ago
The Godhood Chronicles [Public Build] V0.0.10[01] Windows.zip
404 MB
15 days ago
Get The Godhood Chronicles
Comments
Log in with itch.io to leave a comment.
Awwww what happened to the Goddess you fight in the old version?
Love the new character Nue. Was wondering if the new ones have been added to the official devout list in the game since I can't see Nue's name on the Kitchen where I'll have a meal with devouts.
Nue will be up in the next update! Still testing to slowly add them to all the aspects of the temples, etc. We're trying to slowly populate the Kitchen in particular because the bulk of the quests aren't available yet (if there's a food icon next to their names that means they'll be available then)!


Downloaded the game in itch, and all three launch options give errors. Play in browser works, on both my linux machine and on iOS. Attempted to attach screen shots of error codes.